More Water Injected Without Visible Humidity
Ultra-fine high-pressure mist spreads out evenly and makes air quality optimization possible in very different premises. With FreshWind high-pressure misting system higher air humidity can be reach without visible condensation.

Significantly More Energy Efficient Than Other Competing Technologies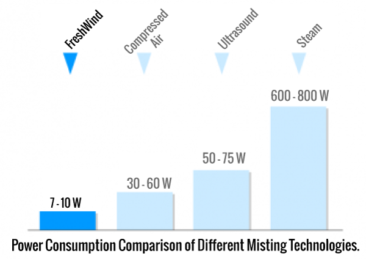 Due to the overwhelming energy efficiency of FreshWind system the payback time in most occasions is less than 3 years. Due to the highly durable water lubricated pump the maintenance expenses are significantly lower compared to the most competing technologies.
High-Pressure Humidification for Various Different Applications
The most popular applications for FreshWind systems are industrial facilities where production process environment must be stable and working conditions safe and pleasant. Our clients use FreshWind systems for:
Improving production process
Condensing
Humidifiation
Cooling
Coating
Explosion Risk Management

Air Condition
Dust Suppression
Hygiene Improvement
Water Lubrication
Voluntary Fire Protection
Treatment of Water Soluble Subtances
Simple Physics in Form of Durable and Efficient System
FreshWind technology was designed and engineered according to the principles of Mollier diagram and strict control of air water content. With the help of these two factors of simple physics FreshWind can always generate ideal humidification for all premises and environments.