Call and ask for an offer or a consultation!
Tel. +358 400 722 800
FreshWind-misting units keep air humidity constantly at the required levels in all facilities. Since FreshWind- systems spread the humid air evenly, it is especially effective for dust suppression and for controlling air humidity at production facilities. The small drop size guarantees improved air humidity without wetting the surfaces. Humid air can also be used for improving the effectiveness of an already existing cooling system.
Applications for Misting Units
Dust binding and controll:
Freshwind-misting units help to prevent and to bind air born dust in manufacturing processes. Humidity binds into the dust, making the dust particles combine and fall to the ground. This prevents the dust from spreading far from the site of origin and thus helps in cleaning. When the amount of dust in the air gets reduced and the existing dust is more moist, the risk for dust explosion is significantly reduced. Moist air also reduces static electricity, further increasing safety at production facilities. FreshWind- high pressure humidification system keeps dusty working places safe and clean.
Increasing air humidity:
Even air humidity is vital in the functionality of many processes. FreshWind-high pressure humidification system increases air humidity and helps to keep the process conditions even. Stable air humidity during manufacturing processes can improve product quality. As a side effect, you get improved security and more efficient cooling.
Improved security and healthier air
Dust and other particles in the breathable air can be health risks. FreshWind- high pressure humidification system keeps the working place healthier and safer. When the air humidity is at a correct level, the air has less dust and other particles. FreshWind- high pressure humidification system helps in improving the air quality and in keeping the work environment healthier in dusty environments, such as saw mills, concrete plants and other dusty production facilities.
Cooling
FreshWind-high pressure humidification system can be used to cool down manufacturing processes, office spaces and storage spaces. Humid air improves the cooling efficiency through adiabatic cooling. FreshWind-high pressure humidification system can be used for spreading fresh, oxygen-rich air into all working spaces. Evenly distributed airflow helps to keep the whole environment fresh and cool.
Technical specifications
Small Freshwind-misting unit
Size: Ø 460mm
Weight 7kg
Capacity: 32 l/h
Requirements: 1~230V 50Hz, 78W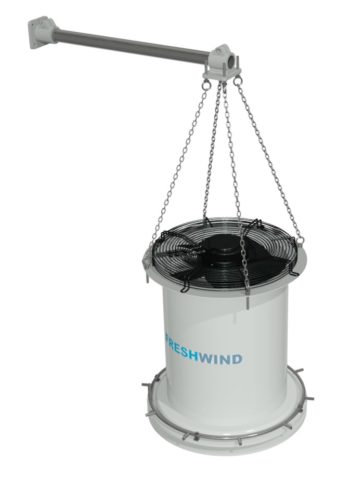 Big Freshwind-misting unit
Size: Ø540mm
Weight: 13kg
Capacity: 50-80 l/h
Requirements: 1~230V 50Hz, 400W