FreshWind Cooling Tower
FreshWind cooling tower offers efficient cooling in small size. Cooling tower increases the cooling efficiency, reduces water consumption and improves the total efficiency of the cooling system in comparison to the ordinary cold-water systems. Since FreshWind cooling tower do not require intermediate water pools the system is kept simple and the problems related to bacterial growth, funguses and alga are avoided.
FreshWind cooling tower can be used for cooling and heating in large premises such as factories, warehouses and offices. Cooling tower can be installed to new facilities or it can be added to an existing system for improving the energy efficiency and output capacity. Due to the cooling tower's compact size and closed cooling/heating cycle it can be installed to many different premises and places (inside or outside).
Fast heat exchange is achieved by spraying ultra-fine mist to the surface of the cooling tower's heat exchanger. Usually the warm air is directed to the cooling tower and the cold and humified air is moved back to the working premises.
During the winter season the cooling tower can be used for capturing process heat and use it for heating the premises.
Applications
Production facilities: Production process often generate heat that can cause problems especially in premises that are already warm. FreshWind cooling tower can be used for cooling process air and water. Warm air is directed to FreshWind cooling tower where ultra-fine mist is sprayed to the heat exchanger and the air is cooled. Cooled water can be then directed back to the process. At the same time cooling tower's humidification will improve the working conditions and safety.
Warehouses: FreshWind cooling tower is stable, safe and guaranteed way of keeping the air humidity and temperature stable in warehouses. Optimal temperature and humidity produced by simple mechanical system minimizes the risk of material and product losses at warehouses.
Server Halls: Warm air is directed from servers to FreshWind cooling towers where the ultra-fine mist quickly and effectively cools the air. FreshWind cooling tower allows effective cooling and humidification and requires very little space.
Office Buildings: Maintaining pleasant working conditions in office buildings requires accurate heating, cooling and humidity control. Warm air is directed to FreshWind cooling tower where the air goes through filters, ultra-fine mist cools down the air temperature and adds oxygen to the air. The fresh and oxygen rich air can be then directed back to the office to take care of your employees.
FreshWind cooling tower can be easily added to an existing ventilation or air condition system. Adding FreshWind to an existing ventilation system will increase the cooling power output and decrease the electricity consumption.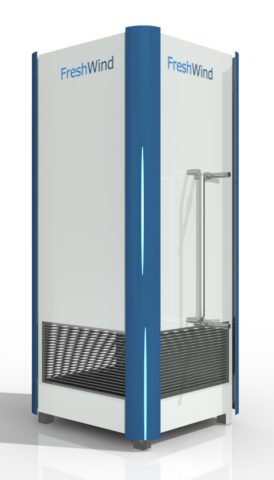 Contact Us
Please, leave an inquiry and we will get back to you as soon as possible.