FreshWind-Cooling tower
Freshwind-cooling tower can be used for cooling or warming air in big spaces, for example, in industrial buildings, storage facilities and in office buildings. The cooling tower can be added to an already existing system to improve its economy and efficiency. During the winter season, FreshWind cooling tower can be used to storage heat from processes and transfer it to indoor heating.
Our closed Freshwind-cooling system is easy to install to different types of spaces. Since the FreshWind cooling tower is compact in size, it can be installed also indoors, avoiding the necessity to changes to the outdoors infrastructure. With FreshWind-cooling tower, you won't need water tanks that are susceptible for microbial contaminations and can be a big health risk.
For safer and more cost-effective cooling, choose  
Applications
Production facilities: Most manufacturing processes produce heat, which can be a problem in facilities where the indoor temperature is already high. FreshWind-cooling tower can be used to cool down the air or water used in manufacturing processes. The warm air or water is directed to the FreshWind- cooling tower, where a fine water mist is sprayed onto a heat exchanger. The cooled down water can then be re-directed into the process. At the same time, the working conditions and safety gets improved by the air humidification of the cooling tower.
Storage rooms: FreshWind-cooling tower is a safe and secure way to keep the conditions stable in storage spaces. Optimal air humidity and temperature improve the safety of storing.
Data centers: Warm air is directed from the servers to the FreshWind-cooling tower, where a cold water mist cools its down efficiently. The fine water mist improves the function of the heat exchanger, making it possible to storage heat-energy quickly and safely. FreshWind-cooling tower enables efficient cooling without taking a lot of space.
Office buildings: Maintaining good working conditions in office buildings requires heating, cooling and the monitoring of air humidity. The warm air is directed through filters onto the FrehsWind- cooling tower, where a fine water mist cools the air and adds oxygen to it. Fresh and oxygen-rich air can then be distributed to take care of your employees!
FreshWind-cooling tower can easily be added to an already existing air conditioning system. It will improve the power of the system as well as bring down the costs.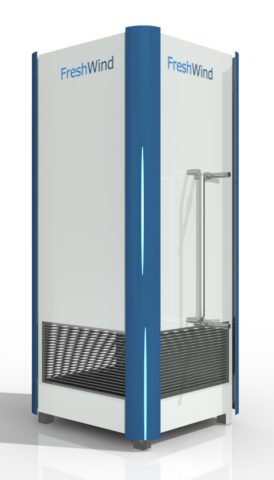 Contact Us
Please, leave a contact inquiry and we will get back to you as soon as possible.
By submitting the contact request and/or contacting us via email, you approve the use of the submitted information by FreshWind Ltd for marketing purposes. The information will be used according to our privacy policy and GDPR.